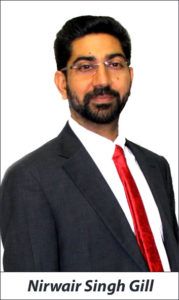 Nirwair Singh Gill, (popularly known as Nirwair Ji) is the best Vedic Astrologer and Vaastu consultant of international fame. Telling the future on the basis of reading of individual horoscopes,and providing Vaastu consultation was his hobby. In 2004, Nirwair Ji migrated to Canada and adopted Astrology and Vaastu consultation as his full time profession.
 As such now he has a Vast knowledge of Hindu Vedic Astrology and the exposure of all forms of occult sciences, including deep understanding of residential and commercial Vaastu with proven, positive results.
Nirwair Ji was born and brought up in India. After completing his Bachelor of Law, he also acquired knowledge of Astrology and Vaastu under the able guidance of his guruji, Sri Raghbir Singh Gill.
Nirwair ji believed that God had given us "Gift of Life" and now it is up to us to give ourselves the gift of "Living Life Well". Man is maker and server of his destiny. Manneeds Power and Money: which are fruits of life, family and friends: which are rootsof life. He realized that there are some unseen laws, some mysterious causes or powers that control our lives.
To unearth these unseen laws, he got assistance and guidance from his GuruJi (Sri Raghbir Singh Gill), a well-known Astrologer and Vaastu Consultant. Sri Raghbir Singh Gill is a well read, able, and proficient professor of these occult sciences. He used to teach Astrology at Bharti Vidya Bhawan, Chandigarh. Nirwair ji made deep study of Astrology and that of Vaastu for about two years(1999-2001) and learnt scientific foundations of Astrology and Vaastu system.
As hobby turned into profession and with guidance of an able guruji, Sri Raghbir Singh Gill, and now practicing for more than 15 years, in these occult fields, Nirwair ji has mastered a unique quality of revealing and directing one's destiny through the hidden secrets of Vedic Astrology and Vaastu. Now he is an authority in all the main branches of Vedic Astrology: Ganita, Jataka(Natal), Prashna, Muhurata, Nimita, and Krishnamurthy system.
Since 2004, he has been serving people from North America to help them overcome their personal, financial, commercial, professional problems and issues. Extensively pursued by Politians, TV and Film Stars, Bureaucrats, leading financial families for his honest and precised prediction. He has large Astrological practice of satisfied International clientele from India, Canada, USA, UK, France, Australia, and Middle East countries.
Logical and rational reading of individual horoscopes and scientific approaches in dealing with Vaastu problems have earned him much fame everywhere.